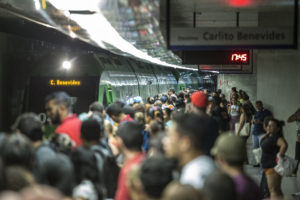 The Secretary of Infrastructure of the Government of the State of Ceará Lucio Gomes and the CEO of Metrofor (operator of the rail passenger transportation systems in the State of Ceará, in the Brazilian Northeast) Eduardo Hotz presented the guidelines and general rules for the performance of the Expression of Interest Procedure (PMI) that will precede the Public Private Partnership of Metrofor. Through the PMI there will be selected three companies, which will be responsible for the technical studies needed for setting a PPP proposal. The PMI Announcement and the selection of companies are expected to take place in the first half of next year.
"It should be emphasized that this PPP is for the operation and maintenance of the Southern Line, the VLT of Fortaleza (which we intend to be in commercial operation until the end of 2018), plus the Cariri Light Rail Vehicles (VLTs) of the North and Crato) and the one of Sobral, that has two lines ", explained Lucio Gomes."The expectation is that, once a concessionaire has been chosen, we can have an increasingly better service, in which systems can be kept up to speed with more agility, where the State will play a regulatory, quality charging role," he added.
"This first stage is a preparation of the rules for a PPP. At this moment, a debate is to discuss the best for the state, listening to those interested in doing this work." PMI will define the best way to hire the company," Eduardo Hotz explained. The explanation of the PMI and PPP marks the beginning of the period of the electronic public consultation, through which individuals and legal entities can send suggestions, questions and comments.
Until December 22nd, on the websites of SEINFRA (www.seinfra.ce.gov.br) and Metrofor (www.metrofor.ce.gov.br), any interested party will have access to the PMI Reference Term, the minutes the PMI announcement and the presentation file of the PPP and the subway lines. Comments should be sent to ppp1@metrofor.ce.gov.br. Suggested ideas and ideas should be posted on the company's website.
SERVICE
ELETRONIC PUBLIC CONCULTATION
www.seinfra.ce.gov.br
www.metrofor.ce.gov.br
From December 7th to 22nd