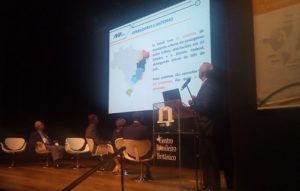 The president of ANPTrilhos, Joubert Flores, took part of the Public Authorities on Urban Mobility in Latin America Meeting in March 23rd, promoted by the UITP – International Association of Public Transport in São Paulo, Brazil. The event was part of the 4th UITP Week Latin America.
Joubert Flores lectured about the transport of passengers on rails in Brazil in the panel on planning and modal integration. The executive presented a panorama of the metro railnetwork, trends and solutions.
ANPTrilhos represents the Brazilian operators of the passenger rail transport systems and has a cooperation agreement with UITP.
Photo: Bruna Santos/UITP