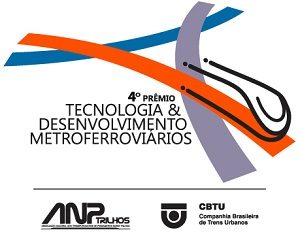 The registration of technical articles is open to compete for the 4th Metrorail Technology and Development Prize ANPTrilhos-CBTU. The registration are going to end on June 2nd and can be made through the link www.aeamesp.org.br/23semana , where the award notice is available in Portuguese. The registration are free.
The 4th Metrorail Technology and Development Prize is organized by National Association of Passenger Rail Operators (ANPTrilhos) and the Brazilian Company of Urban Trains (CBTU), supported by AEAMESP and part of the schedule of the 23rd Week of Metrorail Technology by AEAMESP.
The award was created to encourage technical production in the Brazilian metrorail sector and the technological exchange among professionals in the sector disseminating and giving recognition to the technical and academic production of these professionals, for contributing to the improvement of rail passenger transportation in Brazil
The ANPTrilhos-CBTU Prize is divided in three categories:
Category 1 – public policies, urban planning, funding, management of transportation projects, fees and costs of services.
Category 2 – sustainability, environment, sustainable mobility, management, communication with users and professional qualification.
Category 3 – transportation system projects and its subprojects, technological innovation, Improvement of deployment, operation and maintenance techniques of transportation systems, planning and conception of transportation systems.
The best works will be chosen from each category. The winners are going to be announced on September 19th, on the opening of the 23rd Week of Metrorail Technology by AEAMESP, in São Paulo.