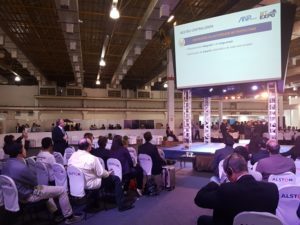 The "Challenge of Integration of Public Transport" was the theme of a lecture given by the Executive Director of the National Association of Passenger Rail Operators (ANPTrilhos) João Gouveia, at the Business on Rails fair, held in the city of São Paulo at the beginning of November. The ANPTrilhos executive presented the panorama of rail passenger transport in Brazil, the social contribution of the systems and the challenges of integrating means of transport.
"The challenges of integrating the rail and metro sector lie in four pillars: rationalization of the network, adjustment of fee policies, integration infrastructure and centralized management," said João Gouveia during his presentation.
Clique here and access the PDF presentation in Portuguese.