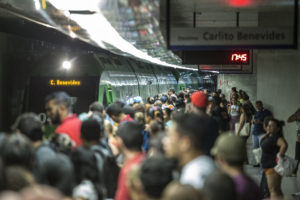 The Government of Ceará, in the Northeast of Brazil, through Companhia Cearense de Transportes Metropolitanos, prepares to conduct two Public-Private Partnerships (PPP) for the operation of passenger rail transport lines. The first edict (PPP1) will have as its object the South Line of the Fortaleza Metro and the Parangaba-Mucuripe branch – operated by Light Rail Vehicle (VLT) – and the second (PPP2) will include the West Line and the East Line of the subway.
The bidding documents for the bids will be preceded by Expression of Interest Procedures (PMI). At the moment, Companhia Cearense de Transportes Metropolitanos, in articulation with other state agencies, finalizes negotiations for the launch of PMI of PPP1. Before the public announcement, a public hearing will be held on the subject.
The South Line is 24.1 km long, has 19 stations in operation, one under construction and connects three cities in the Metropolitan Area, including Fortaleza, capital of Ceara. The Line West is 19.5 km long, has 10 stations and connects Fortaleza to the city of Caucaia, in the Metropolitan Area. The branch Parangaba-Mucuripe, from VLT, is in its deployment phase. In total, this branch will be 13.4 km long and have 12 stations. A 5 km part and four stations are already in assisted operation, since July, transporting passengers free of charge. Another line of the subway in implantation is the East, which will be 13.2 km long, with 12 stations, connecting the center of Fortaleza to the areas of the city with greater concentration of economic activities.
About the PMI
The Expression of Interest Procedure (PMI) is an official calling for companies interested in the Public Private Partnership of the Fortaleza Metro. Through PMI, Companhia Cearense de Transportes Metropolitanos will carry out a series of technical studies and data collection on the global market for rail passenger transportation. Therefore, the conclusions of the PMI serve as a basis for the construction of the criteria, rules and guidelines of the PPP, ensuring that public competition is within the broader public service interests of metro passenger transport.
All information about the PPP will be available on the Metrofor website: www.metrofor.ce.gov.br