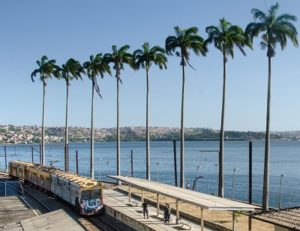 The Government of the State of Bahia launched on May 4th the bidding notice for the concession for implementation and operation of the tram of the city of Salvador, which will substitute the current Trem do Subúrbio. The project under a Public-Private Partnership (PPP) contemplates 18.5 kilometres of extension and 21 stations. The estimated value is around R $ 1.5 billion.
According to the Secretaria de Desenvolvimento Urbano do Estado da Bahia (Sedur), interventions has been planned in two phases: the first, between Comércio and Platforma, is 9.4 km long; and the second, between Plataforma and São Luiz, with 9 km.
The train currently in operation was implanted in the 1970's decade and connects Paripe to Calçada, a 13.6 km route. This system will be enlarged 4.9 km. The current 10 stations will be deactivated and reused to deliver other services to the community.
The daily capacity estimated for the tram is to transport around 100 thousand users. The tram will be connected to the lines 1 and 2 of the subway and to the metropolitan BRT (Express Transport by Bus) lines.
The delivery of the proposals is scheduled for June 30, at the headquarters of BM&F Bovespa, in São Paulo, between 12am and 2pm. On the same day at 3pm, the public opening session of the guarantees and proposals will take place.
All the documents are available at Sedur's website. Click here and download the files in Portuguese.