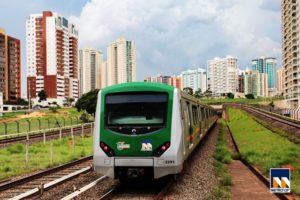 The Brazilian government, through the Ministry of Cities, authorized the government of the Federal District to bid two stages of expansion and modernization of the Companhia do Metropolitano do Distrito Federal (Metrô-DF), the subway of Brasília, capital of Brazil. The term of cooperation for the liberation of the works was signed in a ceremony at the Planalto Palace and was attended by the President Michel Temer, the Minister of Cities Alexandre Baldy, the governor of Brasília Rodrigo Rollemberg, the president of the Metrô-DF and board member of ANPTrilhos Marcelo Dourado and authorities.
The investment of R$ 333.2 million – being R$ 289.2 million from the Growth Acceleration Program of the Federal Government (Large Cities Mobility PAC) and the remaining counterpart from the Brasília government – contemplates:
• Modernization of Line 1 of the subway with the expansion of the capacity of the installed systems, with technological advance.
• 3,680 meters expansion of the Samambaia stretch and the construction of two stations, bike path, road viaducts, as well as pedestrian crossings, paracycles and surface parking.
• Construction of a viaduct on Estrada Parque Indústrias Gráficas (Epig), linked to Parque da Cidade and Southwest.
In his speech, the President of the Republic highlighted that urban mobility is one of the great challenges and that the subway, among all means of transportation, "is the fastest and the one that most serves the population."
With information from Agência Brasília